Several times, I've transformed furniture from a plain "Danish modern" style into something far more interesting (to me, at least!). Did you know you can makeover furniture from plain Danish modern into a global style — Chinese antique and Indian antique?
Here's a few pieces I've made over …
I did a makeover on this cabinet to make it look like a Chinese antique:
Click here for a full tutorial. I used a small poster of a Chinese scene that I ordered from the V&A Museum, olive green milk paint, a few pieces of basswood, and Chinese style hardware found on eBay. That's it! It now fits much better with our global decor, with Moroccan lanterns and a gong found in Cambodia.
I added raised stencils and Chalk Paint to this armoire to make it look like an Indian antique:
Click here for a full tutorial. I used a Moroccan stencil from Royal Design Studio and created a raised effect, and several colors of Chalk Paint and Clear Wax from Annie Sloan to totally transform this armoire. Oh, and new pulls that look old, from Anthropologie.
I'm itching to do another piece. I wanted a shelf or cabinet in our living room to hold a bunch of books. While surfing the Ikea website, I found the BESTA cabinet with DJUPVIKEN doors:
That's what that cabinet looks like now. But when I look at it, I see its future!
I see adding paint to make it look old, metal studs, and old metal hardware from India, to make it look like an antique damachiya (wedding chest) from northern India. Here's a few examples of what this cabinet could become …
This damachiya was sold by Hammer & Hand Imports at Etsy. I loooove it, the chippy turquoise paint: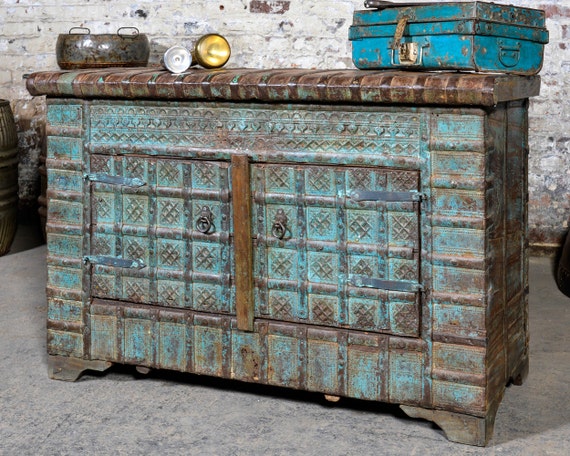 Incidentally, the carved chippy painted wood piece that we used for the base of a bathroom counter in our "second home" apartment in India was found at the Hammer & Hand Etsy shop — check out what we did with it!
Here's a damachiya that shows the metal stud idea, from De-Cor in Pasadena, California:
I think it's the raised square-ish shapes on the IKEA cabinet that made me see it as a damachiya similar to these old chests. With chalk paint or milk paint and the right metal accents, I could make the IKEA look old, like we found it in a desert hideaway in Rajasthan and shipped it to Chicago!
You can tell I'm not a huge fan of the currently popular mid-century modern style. Because any furniture we own that's similar to that style, I keep turning into global antique style!
Maybe you will see a "DIY damachiya" in my living room in a future post.